1. I got married in a castle.
This is true. There is a castle in Sidney, Ohio where I got married in 1997. The sad news is that the castle has since been abandoned. No one has had the honor of feeling like a princess on their wedding day and actually get married in this castle.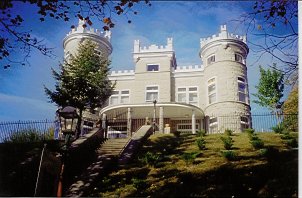 2. I got to travel Europe as a part of an state choir.
This is the lie. My husband did actually get to do this. He tells stories of his adventures in Italy, Germany, and Austria. I wish I could have had the honor, but it never came my way.
3. My stepfather caused a controversy with Walmart.
I come from a wrestling family. My stepfather went big time and WWE followed with the merchandising, including an action figure. My stepfather's thing was carrying a mannaquin head with him to the ring. He would talk to it and so on. When the action figure starting receiving complaints (they thought it was a woman's head) Walmart pulled it off their shelves. I have since removed myself from the wrestling world. My family does not watch it or participate in it. My sisters and brothers along with my stepfather are still very much involved in that world. I have just seen more pain than profit come from this world. I always pray for those in wrestling both local and national. There are struggles and sacrifices that come the fans will never fully understand.
Sammy and Andrea, send your email addresses to me at lucytumnus@gmail.com. I am going to send you a little surprise for your correct guess!!
And just a reminder for those not on spring break!!
I only have five days until Spring Break. The kids are already on break!! Don't you love it!
I just have to keep thinking happy thoughts!